You are here:
Home
/
NADRA LIVERPOOL
FACILITIES AT NADRA CARD LIVERPOOL
NADRA LIVERPOOL provides its online Nadra Card Services UK throughout the day and night. Nadra Card  UK is an independent service provider.
At Nadra Liverpool you can get the following services while sitting in the comfort of your home:
1. New Nadra Card
2. Nadra Card Renewal
3. Passport Renewal
4. FRC- family Registration Certificate
5. POC – Pakistan Origin Card
6. PoA – Power of attorney
If it's your very first Nicop or you are in need of a Nicop renewal, Nadra Liverpool is here to facilitate you. You cannot get your new passport online, but the machine-readable passport can easily be renewed online with Nadra Card UK.
Other than this, you can get various other important documents too, like POC, Pakistan Origin card, FRC- Family Registration Certificate, and POA – Power of attorney.
Does Nadra Liverpool Provide Services to the residents of Liverpool only?
Nadra Liverpool is an online platform that provides Online Nadra Services to people residing all around the United Kingdom, including the residents of Liverpool.
Why Should I apply Online with Nadra Card UK?
Nadra Online UK offers you online services to make your life easier. We know how tiring and hectic Nadra Card application can be if one goes to the embassy for it. The long waiting time, the queues, the nerve-wracking paperwork, and all the traveling to and fro the consulate is surely a lot of fatigue and time waste! With the Online facility Nadra Card Liverpool, you can save yourself from all the fatigue and time wastage. Not only this, but Nadra Card UK also makes sure to deliver the Nadra Card right at your doorstep!
NADRA CARD TRACKING
Nadra Card UKprovides a tracking ID to its customers once the application process starts. With this Tracking ID, the customers can keep a track of the status of their Nadra Card while it is being processed!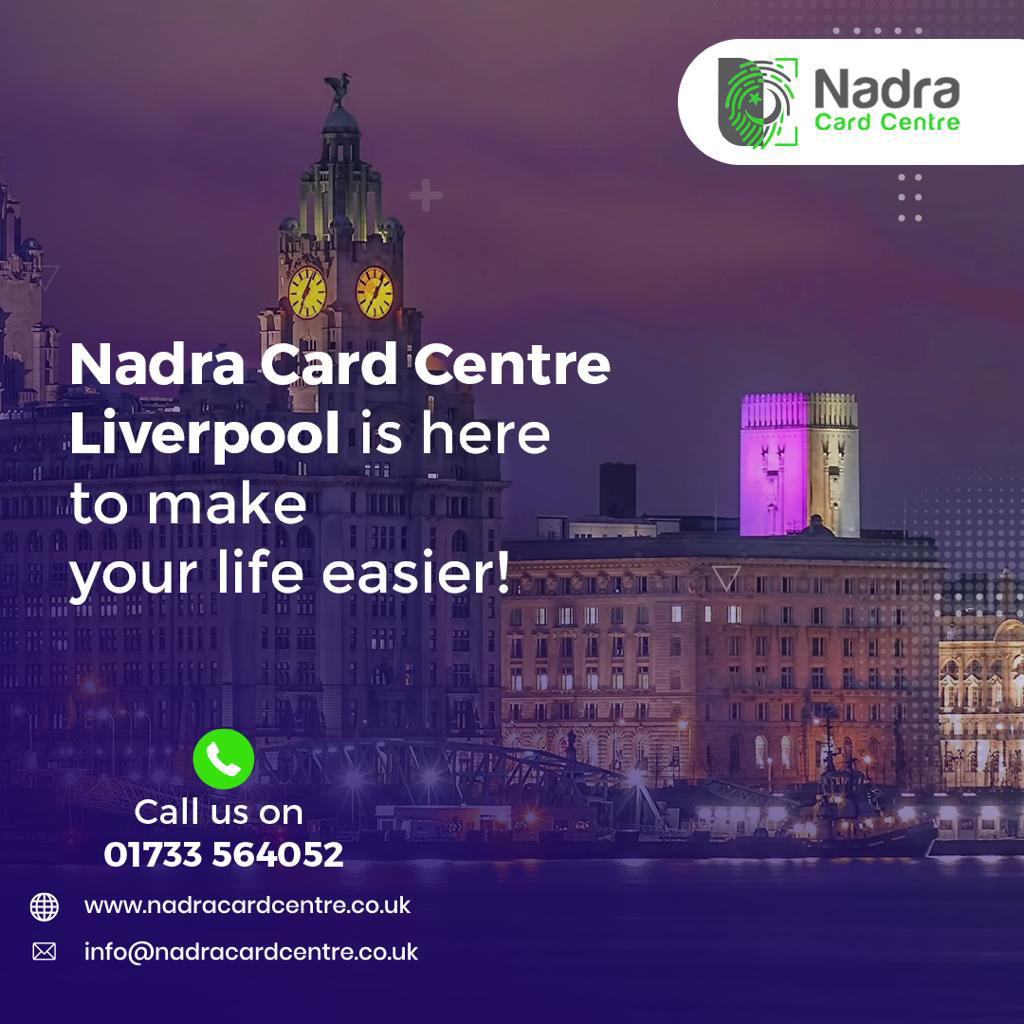 Contact Information
33 Parliament Street,
Peterborough, PE1 2LS
info@nadracardcentre.co.uk