You are here:
Home
/
Nadra Card Bradford
Nadra Bradford is an online service provider that works around the clock offering its efficient Nadra services to its customers in Bradford.
Now the residents of Bradford don't have to worry about applying for a new Nadra card, Nadra Card Renewal, renewal, FRC, or POC.
All you have to do is contact us through our or on Telegram (01733 564052).
Nadra Card Bradford:
With Nadra Card Bradford applying for Nadra services becomes very easy, time-saving, and convenient. Submit the required set of documents. Our agents will do the troublesome paperwork for you and send your application further to Nadra's head office for processing and printing. Once the application gets approved, and the card is printed, the card is delivered to the applicant's mailing address.
Why Choose NADRA Card Centre in Bradford?
Local Presence:

 We understand the needs of the Pakistani community in Bradford and provide services right in your city.

Professional Assistance:

 Our team is knowledgeable and experienced in NADRA processes to ensure your applications are handled professionally.

Swift Processing:

 We value your time and strive to process your applications promptly.

Up-to-Date Information:

 Stay informed about the latest updates, requirements, and fees for NADRA services.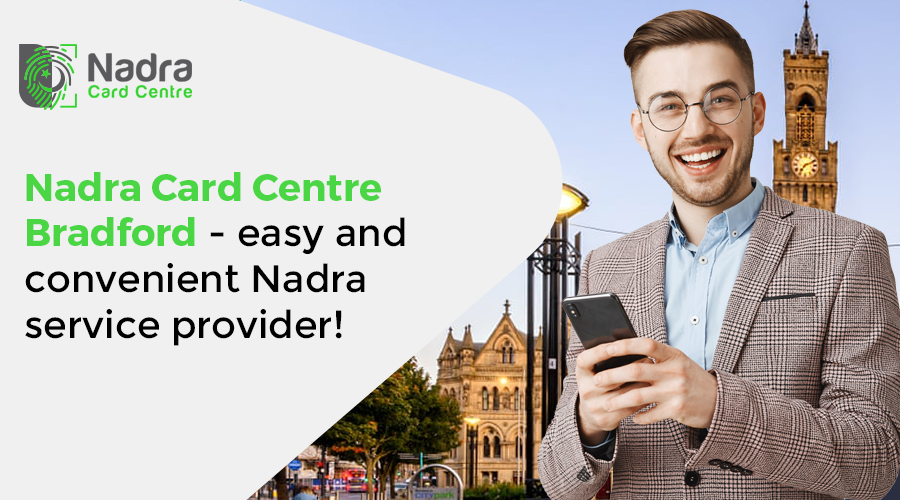 What Documents are Needed to Apply For Nicop Renewal?
For Renewal of Your Nicop You Need The Following documents:
1. Expired NICOP is required.
2. Sized picture.
3. Picture of the front page of your.
4. Additional document for Nicop card
5. You must provide the CNIC number and name of a Pakistani national relative.
6. NICOP/CNIC name and number of parents.
How Long does the Nadra Renewal Take?
Nicop renewal can take up to 7 working days to 6 working weeks, depending on the type of service you choose.
Nadra Card Centre Bradford offers the following services:
Fast: in 7-10 Working Days service, this is from the day we submit your application.
Urgent: Service from the day we apply in 3-4 Working Weeks.
Slow: 6 Working Weeks Service from the day we apply.
The fee for each service varies. You can find the fees for each service below:
Fast service costs £199
Urgent service costs £180
Slow service costs £150
Our Nadra Card Bradford Services
New Nadra Card
Nadra Card Renewal
FRC- family Registration Certificate
POC – Pakistan Origin Card
According to each Service, the Application is Processed and Forwarded for Card Printing.
Nadra Card Centre Bradford is your ultimate solution when you think of getting your Nadra Card Renewal without going through any bothersome paperwork or travelling to the embassy or consulate and wasting your time standing in long queues. With Nadra Card Centre Uk, everything is online and accessible. Nadra Card Centre is for those who value their time and wish to have a hassle-free life. So wait no more and apply now!
"Visit our website Nadra Card Centre UK or message us now at our telegram number: 01733 564052"
Contact Information
33 Parliament Street,
Peterborough, PE1 2LS
info@nadracardcentre.co.uk