POC NEW or Pakistan Origin Card program seeks to provide eligible foreigners with incentives to get back to their roots; while ensuring that the motherland remains tightly unified with expatriates worldwide. Among the many benefits of holding a POC card the following are also included:
Multiple visa-free entries into Pakistan.
Indefinite stay in Pakistan with exemption from reporting to police or foreigners' registration offices, etc.
Right to purchase, sell, own, deal with and dispose of movable and immovable property anywhere in Pakistan.
Right to open and operate the bank accounts in Pakistan.
Swift immigration into/from Pakistan at all designated routes, ports,s and places.
Proof of Identity in place of National Identity Card.
May obtain Employment.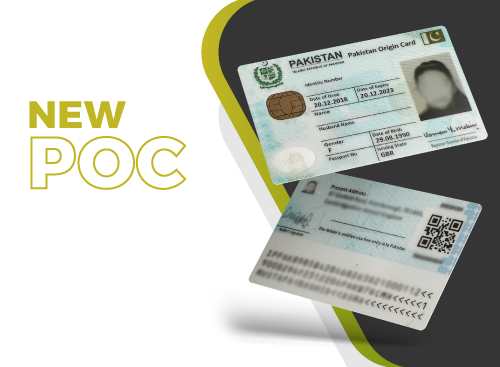 Why Should I Apply For POC at Nadra Card Centre?
Nadra Card Centre UK is an independent service provider that assists you in getting your Nadra Cards made online!
To get this important document, the POC (Pakistan Origin Card) standing in long queues and going through the lengthy paperwork procedures can be hectic and annoying. Nadra Card Centre endeavors to give ease and convenience to all of its customers. Thus, it provides the facility of getting a new POC card to you while you are in the comfort of your home!
How To Apply For a New Pakistan Origin Card?
To apply for a Pakistan Origin Card online with Nadra Card Centre UK the first thing is to gather the required documents. The list of Required Documents is as follows:
Passport size picture.
Picture of the front page of your Passport.
Pakistani National's ID card and passport copy.
Affidavit Provided by NADRA should be completed by a Pakistani national on the basis of which you can apply for a POC card.
Marriage Certificate (Should be in English).
Family Members Nadra card copies, photos of the family members.
The next step is to fill out the 'apply now' form for the POC application.
After this, our agent will contact you and process your application.
Once the application is processed and the card is printed, it is dispatched to the mailing address provided by you.
To Apply For POC Online Click The Link Below: