You are here:
Home
/
Nadra Card Nottingham
What is Nadra Card Nottingham?
Nadra Card Nottingham, The Pakistani community is the largest ethnic minority in the City of Nottingham. More than 16,000 British Pakistanis reside in Nottingham currently. With such a huge number, the Pakistani community in Nottingham creates an ambiance of mini Pakistan within the UK.
Nottingham is not only full of Pakistani residents, it also houses numerous Pakistani restaurants that are famous amongst the locals too.
The University of Nottingham also acknowledges Pakistani students. The Pakistan Society of the university holds celebrations, festivals, and social events on important days in Pakistan.
In a city where Pakistanis are in great quantity, Nadra Nottingham offers its exclusive NADRA services for the comfort of the Pakistani community!
Our Services:
Our services are available all day long as well as throughout the night! We work around the clock to be of service to people with all kinds of schedules. Our multi-lingual staff assists people speaking different languages to help people from different backgrounds.
Nadra Card Nottingham offers online services to help you avoid the hassles of visiting the consulate fix times, standing in long queues, and going through the application form paperwork. Our staff is trained to ease the Nadra application process for you. With only one online payment you can get the following services easily:
1. New Nadra Card
2. Nadra Card Renewal
4. FRC- family Registration Certificate
5. POC – Pakistan Origin Card
6. PoA – Power of Attorney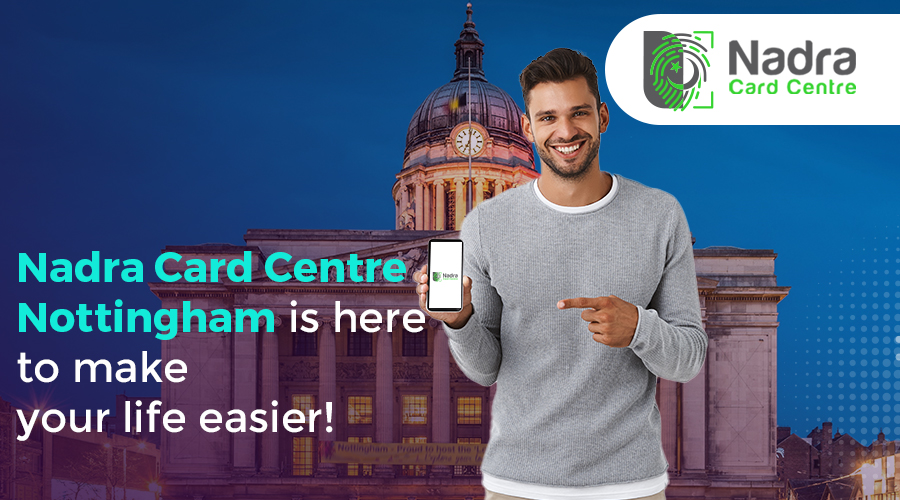 Can I Renew My Nicop Card In Nottingham?
Yes, you can renew your Nicop Card in Nottingham through Nadra Card Centre Uk. We provide hassle-free services and deliver your Nadra Card in comfort to your home. If you can book your appointment online in Nottingham  contact us We'll book your appointment online and process your application urgently also protect your data
Contact Information
33 Parliament Street,
Peterborough, PE1 2LS
info@nadracardcentre.co.uk