You are here:
Home
/
Nadra Card Southampton
Nadra Card Centre Southampton is here to facilitate the Pakistani community living in Southampton. Southampton is a coastal town in the United Kingdom. It is home to thousands of Pakistanis. Many Pakistanis come to this town for their higher education and then settle here. Many Pakistani families are living here for years. These Pakistani feel completely at home in this scenic town. Numerous Pakistan nationals living in Southampton face issues regarding their official documents and paperwork. They don't yet have a Pakistani embassy in the vicinity and thus these issues are inevitable.
Nadra UK provides ease and comfort to all the Pakistani people living in the area. It offers its online Nadra services so that Pakistanis of Southampton can apply for their New Nadra Cards, Nadra Card renewal, POC, POA or FRC while sitting in the comfort of their homes.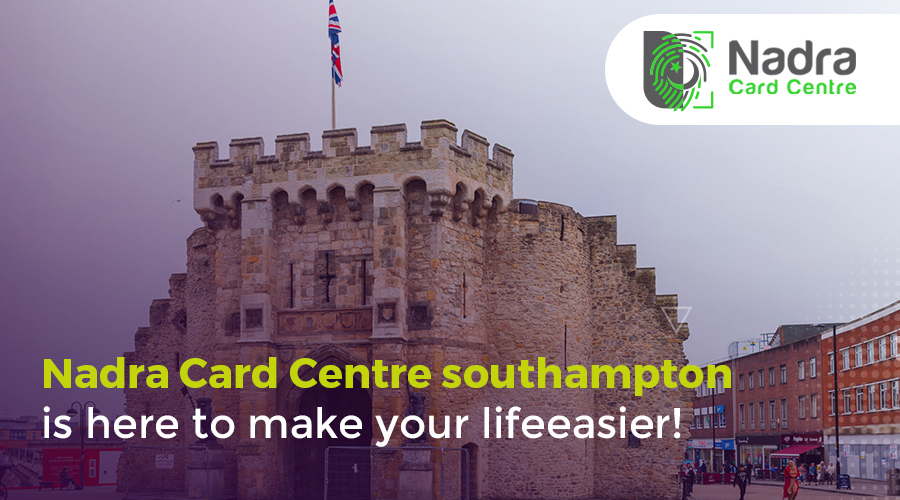 Why Choose Nadra Card Centre Southampton?
Expertise: Our team of experts specializes in Nadra card processes, ensuring accurate and efficient service.
Streamlined Process: We've simplified the entire process, making it convenient and accessible for our clients.
Comprehensive Services: Whether you need to renew your Nadra card, apply for a new one, or modify your Nicop card, we offer a wide range of services to meet your specific needs.
Nadra UK understands that its customers work hard to make a comfortable living and so we strive even harder to provide our fellow Pakistanis comfort and convenience from our end.
Our services are available around the clock. This makes us accessible to even those with tough schedules and jobs with odd timings. With Nadra Card Centre they are not time-bound when applying for their Nadra Card.
Nadra Card Southampton has bilingual staff members. This enables English and non-English speaking customers to communicate with is easy. Applicants who are comfortable speaking languages other than Urdu are also facilitated by our well-trained staff so that they face no issue when they apply for their Nadra Cards with us.
Nadra Online also provides it urgent Nicop service. This helps out people who wish to travel urgently but their Nicop is expired.
When such an applicant applies for Nicop Renewal we provide him/her with a submission letter once the application is submitted. With this submission letter and the expired Nicop the applicant can easily travel to Pakistan.
Nadra Card Centre Southampton also offers a tracking facility for its customers. Once we submit your application, we provide you with a tracking ID. You can put this tracking ID on our website and track the status of your application. The application status can be as follows:
Submitted and approved
Sent for printing
Dispatched
Deferred
Conclusion:
At Nadra Card Centre in Southampton, our mission is to simplify Nadra card-related processes for Pakistani expatriates. Whether you're renewing your card, applying for a new one, modifying your Nicop card, or need assistance with other Nadra-related matters, we are here to provide efficient and reliable services.
Don't delay renewing your Nadra card or taking care of other related tasks. Visit nadracardcentre.co.uk today to access our services conveniently and securely. For personalized support or inquiries, please don't hesitate to contact us. Your satisfaction is our top priority.
Contact Information
33 Parliament Street,
Peterborough, PE1 2LS
info@nadracardcentre.co.uk