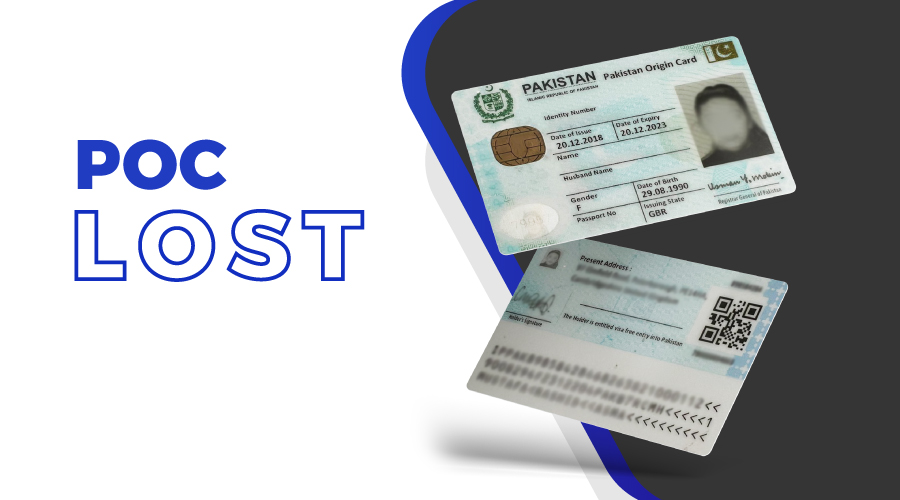 What is POC LOST?
Losing your important documents is always very infuriating. Losing a POC means that a foreigner can no longer visit Pakistan without a. A foreigner cannot open a bank account in Pakistan without a POC. Also, without a POC card, a foreigner will not be able to buy or sell properties! In short, a POC card is really essential for all those Foreigners who wish to stay connected to Pakistan and so losing this card can be a big problem! But to avoid any of the problems that you may face because of a lost POC, you can get it reprinted! Going to the embassy or the Consulate to get your POC application for reprinting is a big hassle! But, with Nadra Card Centre UK, you can easily apply online for POC Reprint if your card was lost, stolen, damaged, or destroyed
Everything at Nadra Card Centre is done online and you simply get the POC card delivered to your mailing address!
Apply Online POC LOST Through Nadra Card Centre UK:
When applied with Nadra Card Centre, you only have to a pay one-time fee which is taken at the start of the application, and submit all the required documents for POC Cancellation. All the paperwork related to your POC cancellation application is done by the case agent assigned to you by Nadra Card Centre UK. Once the paperwork is completed by our agent, your application for the Lost POC card is sent to the Nadra Head Office where it is verified, approved and sent for reprinting.
Once the POC card is reprinted, it is sent to you to your mailing address!
Documents Required For POC Reprinting:
The Documents required for POC Card Cancellation are as follows:
POC Card copy or card number
Valid MRP
Latest photo
Valid Marriage Certificate (if Lost POC was Spouse Based)
To Get Your Nadra POC Reprinted Online, Follow The Link Below!