Nicop Cancellation means the termination of one's ID card. Usually, Nicop Cancellation is applied in case of the death of a citizen but there could be other reasons too.
With Nadra Card Centre UK, Cancellation of NICOP Card for the Following is Available Online:
Cancellation of NICOP Card Due to Death:
Cancellation of NICOP due to the death of a Pakistani Citizen/Ex-Pakistani may be applied in this category by the immediate family members (parent/sibling/children/spouse).
Nicop Cancellation Due to Surrender of Pakistani Nationality:
A Citizen of Pakistan who has formally renounced/surrendered Pakistani nationality by acquiring the nationality of a foreign country or acquired nationality of a foreign country (having a valid foreign passport) that doesn't permit dual nationality can apply for cancellation under this category.
Why Choose Nadra Card Centre UK for NICOP Cancellation?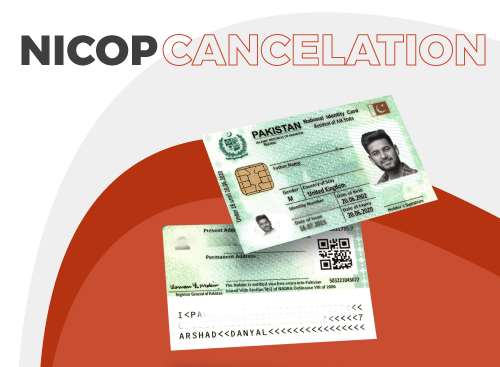 Nadra Card Centre provides premium services to Pakistanis residing abroad. With Nadra Card Centre you are not time-bound. You can contact us Online around the clock. Nadra Card Centre has trained staff who assist you in processing your Nicop Cancellation application. All you need to do is provide the required documents whole all other paperwork is completed by our trained agents. Nadra Card centre facilitates all its customers and makes sure they don't have to visit the Nadra Card Centre office or the consulate. When needed, the fingerprint forms are also posted to the clients along with the inkpad for their convenience.
Valuable Points:
With Nadra  Card Centre UK the concept is to provide as much convenience and ease to the applicant as possible as we understand how difficult and tiring it is to apply for Nadra services at the Embassy!
With Nadra Card Centre UK you don't even need to pick your card as we deliver it right to your doorsteps!
If you like to get your work done with ease and convenience, Nadra Card Centre is your one-stop for all Nadra Services! Apply Online now to Cancel your Application with us.