You are here:
Home
/
Nadra Succession Certificate
What is a Succession Certificate?
On behalf of a deceased person, a successor is granted a Nadra Succession Certificate and Letter of Administration, which establishes the legal heirs'/successors' ownership of the deceased person's movable and immovable property. This succession certificate is essential for the successors of any deceased person. People face difficulty after their loved ones pass away. There are many issues related to the property allotment, and to be a legal heir, one must have a valid succession certificate.
This certificate will be used to identify the deceased's legal heirs to distribute his movable assets. The digital certificate includes a variety of security elements as well as real-time verification.
Earlier it was very difficult for Overseas Pakistanis to get done with the verification for the succession certificate. Applicants had to submit an application form, after which NADRA issued a public notice in any leading local newspapers and on its website. In case of no objections within fourteen days, the legal heir had to visit the Embassy or the consulate for biometric verification. Only after verification of the legal heirs was completed through bio-metrics, Succession Certificate or Letter of Administration was issued in Applicant's favor. Many issues arrived for people living in places without a Pakistani Consulate or Embassy. Just for one verification, they had to Travel to different locations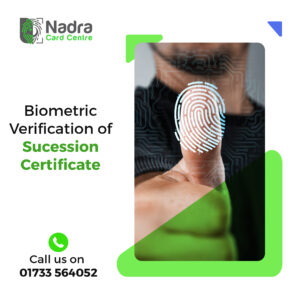 Bio-Metric Verification of Succession Certificate
But now, Nadra Card Centre UK has made this process very easy for all the Pakistanis living abroad. We at Nadra Card Centre are offering our customers the facility of getting biometric verification for the succession certificate while sitting in the comfort of their homes. No, you do not need to visit the embassy or the Pakistani consulate to get yourself verified as the legal heir of your deceased loved one, you can get it all done online with ease and comfort!
To Apply For Biometric Verification of Succession Certificate, Apply Now at Nadra Card Centre
Our Brand New Service!
Moreover, Nadra Card Centre UK has now brought its newest service for the ease and convenience of its prestigious customers. Nadra Card Centre UK is now offering biometric verification for the succession certificate.
Nadra Card Centre UK and Its Services:
Nadra Card Centre UK is a renowned independent service provider. It helps Pakistanis apply for their Nadra Card online. Along with providing New Nadra Card and Nadra Card Renewal, Nadra Card Centre also offers the renewal of machine readable, POC – Pakistan origin Card, POA – power of attorney, and FRC – Family Registration Certificate.
Contact Information
33 Parliament Street,
Peterborough, PE1 2LS
info@nadracardcentre.co.uk