FRC(Family Registration Certificate)
Family Registration Certificate
What is FRC?
FRC or Family Registration Certificate is a crucial document that is used to verify your identity along with your family composition as per the National Database Regulatory Authority's (NADRA) records.
What is The Purpose of FRC?
The FRC's Purpose is to serve the public interest by setting high standards of corporate governance, reporting, and audit and by holding to account those responsible for delivering them. Be curious and appropriately challenging to gain the facts, context, and understanding.
When is FRC Needed?
A Family Registration Certificate is a means of being identified with your NADRA's record. This provides the family composition.
You Can Apply For FRC in The Following Three Categories:
By Birth – it will list your family including the details of your parents and siblings.
By Marriage –  it will list your family including the details of your spouse and children.
By Adoption – it will list your family including the details of your guardian
The FRC cannot be used for any legal purpose and it is instead used for Embassy matters. FRC is used for verification purposes when individuals apply for a visa "for higher education, immigration, official visit, or foreign visit"
Documents Needed For Family Registration Certificate
The following documents are needed when applying for FRC:
Family Member Nadra Card Copies.
Family Photos
Death Certificate (if required)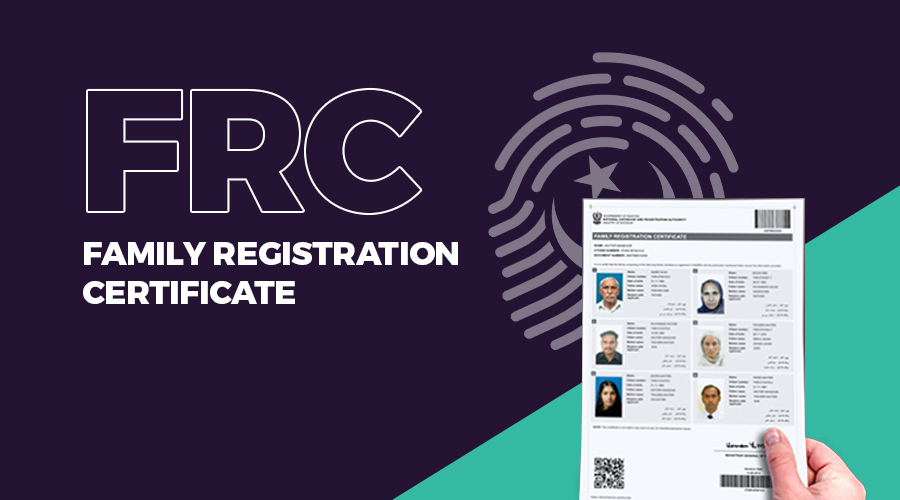 How To Apply?
Getting your Family Registration Certificate was never so easy, Nadra Card Centre has made it easy and convenient for all its prestigious customers. The simple process of applying for your FRC makes it a piece of cake for everyone including housewives, and elderly Citizens too.
The first step is to create contact with our agent through Telegram.
Next is the submission of your required documents.
Once the documents are approved by the agent, your application will be processed and sent to you for verification.
After verification from your side, your application is then forwarded to the Nadra head office.
At Nadra head office your application is approved and further processed.
Once all requirements and procedures are completed at the Nadra head office. After this, you receive your soft copy which can be printed as per need. You don't have to worry about visiting any office or embassy for such a basic document anymore. With Nadra card Centre application for FRC is simple and you can apply while sitting in the comfort of your home.
Contact Information
33 Parliament Street,
Peterborough, PE1 2LS
info@nadracardcentre.co.uk