You are here:
Home
/
Nadra Card London – Nicop Renewal London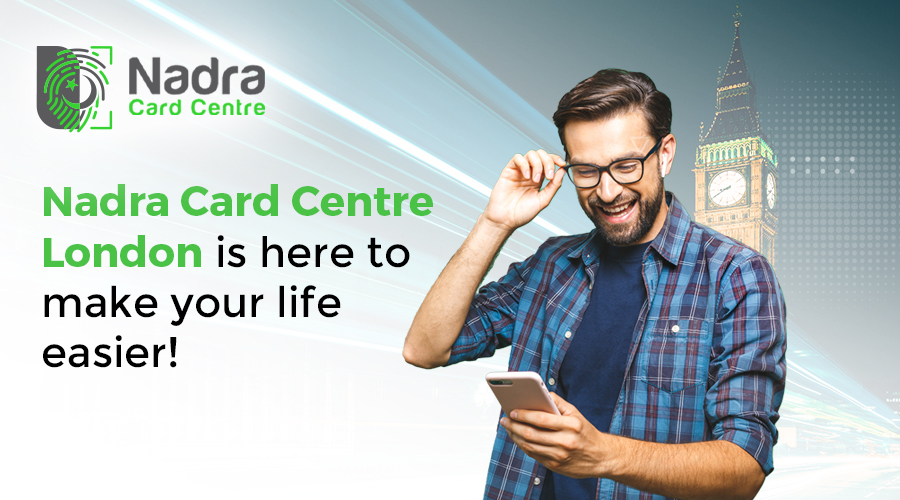 Nicop Renewal London brings Nadra services to your home! Nadra Card London provides online assistance to make your life easier. We are working around the clock to provide the best customer service in town.
NADRA Cards and NICOP Cards in London
NADRA Cards (National Identity Card for Overseas Pakistanis) and NICOP Cards (National Identity Card for Overseas Pakistanis) are essential documents for Pakistani citizens living in London. These cards serve as proof of identity and facilitate various official transactions.
Why Choose NADRA Card Centre?
We Take Pride in Offering The Following Advantages To Our Clients:
Convenience: Our London-based office means you don't have to travel far to access NADRA and NICOP services.
Expert Assistance: Our experienced team is well-versed in the application process and can assist you at every step.
Timely Processing: We understand the importance of your documents, and we strive to ensure the timely processing of your applications.
Reliable Information: We keep you informed about the latest updates, fees, and requirements.
Nicop Renewal London Offers The Following Online Services:
New Nadra Card
Nadra Card Renewal
FRC- family Registration Certificate
POC – Pakistan Origin Card
POA – Power of attorney
Nadra Card London has trained case agents who ensure you face no problem when applying with us! Our agents help you out right from the start. You are guided regarding the required documentation, the correct way to get your perfect fingerprints on the application form, and the status of your Nadra Card.
Our simple application steps and around-the-clock and multilingual services make us familiar to all, including senior citizens, homemakers, people speaking different languages, and people with really busy schedules.
How to Apply for Nadra Card London?
Nadra Card Centre is an online Nadra service provider that assists you in applying for your Nicop Nadra UK card online. The question is how to apply for Nadra London without visiting any office or the Consulate. The answer, on the other hand, is straightforward! You only need to create contact the Nadra Card Centre agent, who will make your Nadra Card Application online and help you get your Nicop Card while sitting in the comfort of your home.
Applying for your Nadra Card UK is easy and convenient for all applicants.
The first step is to fill out the 'apply now form' for Nicop Nadra UK Card on our website. When you submit this form, one of our well-trained agents contacts you, and once you agree with the payment details, they ask you to submit the required documents.
What Documents Are Needed to Apply For Nadra Card London Online?
To Use For Nadra Nicop Online, You Have to Submit the Following Documents:
Picture of Front Passport Page
Latest Passport-Size Picture.
Parent's or Sibling's CNIC Copy
Marriage Certificate in Case of the Married Applicant.
Once you submit the required documents mentioned above, your Nadra Card London application will be processed. You get biometric forms delivered to your home in a prepaid return envelope with an inkpad for your convenience. After your approval, it is sent to the Nadra Head office. At Nadra Head office, your card is printed and dispatched to your mailing address.
Why Is Nadra Card Centre UK Different From Other Service Providers? 
Getting your Nadra Card London was never this easy, but with Nadra Card Renewal UK. It has become not only easy but also convenient for everyone! The Nadra Card Centre offers its services to all applicants around the clock, and thus it is accessible to a much larger audience, even the ones with tight schedules and jobs with odd hours. Moreover, the team at Nadra London is multilingual, which helps remove the language barriers and applicants from different language backgrounds can Apply for Nadra Card UK card easily and comfortably.
Contact Information
33 Parliament Street,
Peterborough, PE1 2LS
info@nadracardcentre.co.uk