What is Nadra Renewal UK?
Like everything in this world, your Nicop too has an expiry date! Need NICOP RENEWAL,  A Nicop is only valid for 10 years. So in case your Nadra Card has expired or will be expired in the next six months, you are at the right place!
Apply for Your NICOP Renewal While Sitting in Your Home!
Nadra Card Centre U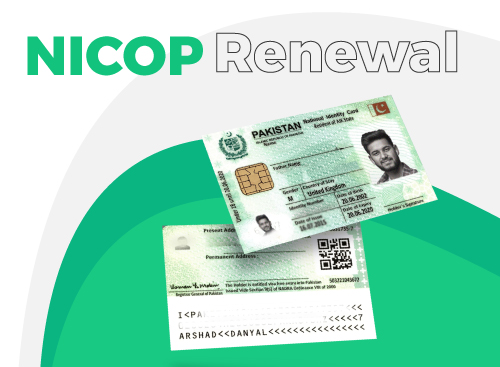 K You can now enjoy our premium NICOP Renewal service that allows you to sit at home and apply for your Nadra NICOP application without any hassle. We completely understand how disheartening it is when you know that your NADRA Card is expired and you cannot visit Pakistan. In such an unfortunate situation when traveling seems impossible we wish to keep other things easy for you. Nadra Card Centre UK focuses on providing online service to you in which you don't have to leave the comfort of your home at all! We will assist you throughout and provide the answers to all your queries at all times!
Application Submission
Without a Nicop or with an expired NICOP traveling to Pakistan is impossible. However,  IF YOU NEED TO TRAVEL URGENTLY, WE ALSO HAVE A SUPER QUICK SERVICE!  You can now travel to Pakistan even if in which You will be sending us the related documents. We will complete your application in one day Then we will submit your application and give you a submission letter to travel. With that submission letter and original expired card, you can easily travel. To apply Click Here: Apply Now
How to Apply:
The procedure is very simple. First, you have to submit soft copies of the Required Documents. Then all paperwork for your Nicop application is done by the Nadra Card Centre agent without any error or rejection chances. Once the application is approved by the customer, it is sent for processing. After all the procedures, the card is sent for printing and finally dispatched to your mailing address! To start your NICOP Renewal application click here