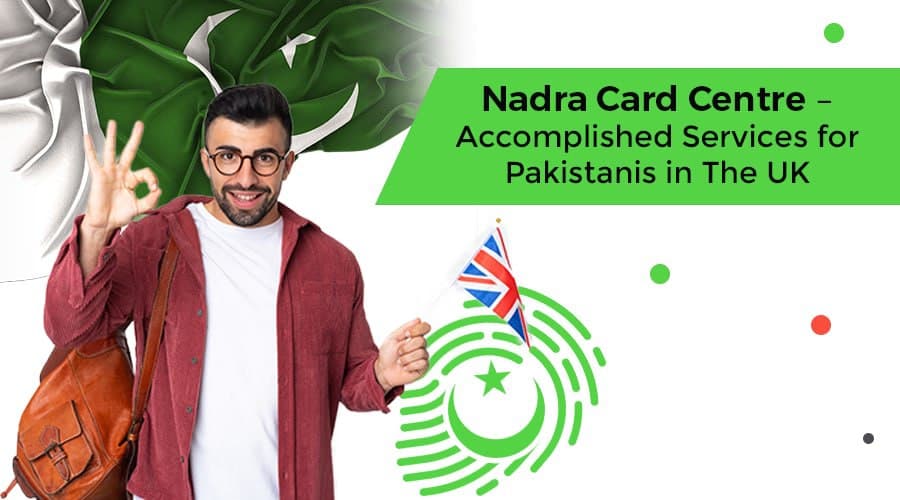 Nadra Card Center is a service for overseas Pakistanis living abroad in Europe to Apply for their NICOPs. Not just our website is active for the entire day and night we additionally make our presence possible in the office physically for a whole year. Nadra UK is always ready to deliver its customers the best of services that could solve all their worries.
At Nadra Card Center, You Can Apply For:

NICOP Card for the first time
Nadra Card
NICOP Renewal
NICOP Modification
POC First Time
POC Renewal
POC Modification
Pakistani Passport Renewal
FRC (Family Relation Certificate)
People who have been waiting for a few months to see their family, or to meet their companions and family members in Pakistan, have now got a very excellent chance to apply for documentation at Nadra Card Centre. You can apply for any travel document or paperwork needed for the visit purpose to Pakistan.
Nadra Card Tracking Is Hassle-Free With Nadra Card Centre
Nadra Tracking is here to help you in every trouble. There is an amazing tracking service for our customers at Nadra Card Centre. Have you lost or misplaced your NICOP Card somewhere? Don't worry at all! Nadra Card Center UK is here to solve your problem without any worries. Tracking NICOP was not so easy before but Nadra Card Centre has made it simple and hassle-free for you. Now you are able to find your lost NICOP Card by Nadra Card Tracking services without any stress.
What Services Are Available For All?

We are offering paperwork for different kind of documents that are given here:
Pakistani Passport Issuance
Pakistani Passport Renewal
NICOP Renewal
NICOP Tracking
Newborn NICOP
POC
FRC
Hassle-Free Work:

Nadra UK is aimed to provide relief and comfort to our customers. Nadra Application is easily submitted on the website with the requirements of a few details. We do not put our customers in an uneasy situation and value their interests. You don't need to put in detailed history or any sensitive information however just the general data is required such as name, contact number, email address, etc.
How Do You Pay The Application Fee?
You Can Send Us The Application Fee Through:
Cash: You may come and drop money off at one of our workplaces.
Debit/Credit Card: Call us and one of our representatives will be glad to deal with your card payment.
Urgent Nicop With Stress-Free Paperwork:
We are here to serve you with the best Nadra Card Centre services. You can get urgent NICOP within 24 hours. Nadra Card Centre brings Pakistanis overseas Card for the people who are living abroad. Make sure to attach the required documents. You don't have even need to visit our office, simply do the procedure online at our website. Still, you can visit our office for any help regardless of what's time or occasion it is.
https://nadracardcentre.co.uk/wp-content/uploads/2018/10/updated-header-logo.png
0
0
King Kong
https://nadracardcentre.co.uk/wp-content/uploads/2018/10/updated-header-logo.png
King Kong
2021-03-01 11:46:21
2022-03-04 16:38:57
Nadra Card Centre – Accomplished Services for Pakistanis in The UK